HISTORY OF NORTH BUCKHEAD
North Buckhead Neighborhood History and Sites of Interest
The Creek (Muscogee) Indians inhabited the area south of the Chattahoochee River for thousands of years.  They had several settlements along Nancy Creek, the nearest to North Buckhead being in Chastain Park (under the filled-in ball field).  They were forced out of the area by the US Government in 1821.
Peachtree Road Commissioned by US Government

During the War of 1812, the Creek Indians, residing in our general neighborhood, sided with the British.  To facilitate US Army travel between outposts in the area, Peachtree Road was commissioned and built.  It went east and north from Buckhead to Gwinnett County along present Peachtree Road and west from Buckhead to the Chattahoochee River along the general path of West Paces Ferry Road.

Early Non-Native-American Resident of North Buckhead Area

John Evins and his wife Nancy came to our area in 1818. They had extensive land holdings at the north end of North Buckhead, with a home near present-day Peachtree Dunwoody and Windsor Parkway. Historian Franklin M. Garrett believes that nearby Nancy Creek got its name from Nancy Evins.

Buckhead's First Church - Sardis Methodist

Sardis Methodist is thought by author Susan Kessler Barnard to be Georgia's third church. It is located at 3725 Powers Ferry Road NW, across Roswell Road from North Buckhead.  The plaque says that Sardis Church was established in 1812 on land taken from the Indians.  Susan Kessler Barnard says the date is more likely around 1825.  The cemetery at the church is very old.  Many graves are marked only with simple unfinished local stones. The oldest dated grave is of a 7 year old girl, Sarah Barnwell, who died in 1831.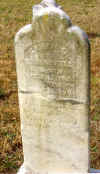 1831 Grave Stone
Buckhead Occupied by Federal Army
On July 18, 1864, during the Battle of Atlanta, the Federal Army occupied Buckhead and the ridge between Peachtree Road and Nancy Creek, west of North Buckhead.
1890s - 1920s
Stone Hunting Lodge On Mountain Way

A stone house can be found at a bend on Mountain Way on the North Ivy side of the Little Nancy Creek bridge.  It is said to be an old hunting lodge which dates from 1890.  Other people say this house  was built in the late 40s. 

Photo: Gordon Certain.

Lake At Mountain Drive

According to long-time residents, the depressed marshy area bounded by Mountain Drive and North Ivy was once a man-made lake, with a dam near the present-day bridge on North Ivy near Mountain Way.  The dam was removed around 1920, reportedly about the time the Peachtree Gardens Club House was built.

A reader on our "Fence Talk" page left the following comments: "As for the dam on the Little Nancy Creek, it was put there to form a lake, and a sandy "beach" was made at the time that Peachtree Gardens was built. It was, originally built to be a delux resort. The grand opening was attended by the then Govenor of Georgia, the Mayor of Atlanta and other notables. Blue Baron, with his nationally known orchestra, played for the Grand Opening gala."
Log House at 37 Arden Way
As recently as the late 1980s and early 1990s, there were several log houses in North Buckhead.  One on the west side of Wieuca Road near North Ivy Road was torn down around 1995.  The last one that we are aware of is on the west side of Arden Way.   

The exact age of this house is not known, probably 1880s or 1890s.  However, according to the current owner, the street address was recognized in 1903.  At that time the street name may have been Innis Road.  Better pictures of the house will be posted here in the spring.

 

Photo: Gordon Certain.
Links to Other Buckhead (And Atlanta) History Pages
History Menu at www.buckhead.org
History of Atlanta at www.sos.state.ga.us
Interesting Atlanta Site For Landmarks And Historic Places
---
Sites of Interest in Our Part of Atlanta
Mill Site on Wieuca Road
An old mill site can be observed just south of the intersection of Wieuca Road and Nancy Creek on the west side of the road.  The mill dam was in ruins for many years but was rebuilt when the adjacent property was subdivided and re-developed.  If anyone can provide additional historical information about the mill, we will be glad to publish it on this site.  Please contact us.
Peachtree Gardens Club House

A large old club house exists, in somewhat declining condition, west of the intersection of North Ivy Road and Buff Road, near North Stratford Road.  It was constructed around 1927 by Theodore Benning, built as a dance hall.  The dance hall was very popular and was said to be used constantly until 1972.
Neighborhood Physical Characteristics
Neighborhood Elevation Above Sea Level
Highest Point:

1016 Feet at St James Methodist Church at Lordians Drive and Peachtree-Dunwoody Road

Lowest Point:

About 815 Feet at Roswell Road and Nancy Creek
Bodies of Water
Lakes:
Lake Emma (Visible from Lakemoore Drive and Land O'Lakes Drive)

Emma at Lakemoore Colony Condominiums
Streams:
Nancy Creek along the north border of North Buckhead
Little Nancy Creek runs through North Buckhead from Peachtree-Dunwoody near Stovall Blvd into Nancy Creek at Wieuca near Loridans
---
Other Neighborhood History and Sites
If neighborhood residents know of other topics of neighborhood historical interest or sites of interest, please contact us.  Items of special interest include origin of the names:

Buff (Drive) (See note from Charles Taylor.)
Carmain (Drive)
Chastain (Park)(See note from Grant Thomson.)
Glengary (Drive)
(Lake) Emma
Loridans (Drive)
Stovall

 (Boulevard)

Wieuca (Road) (See note from Charles Taylor.)
Windsor (Parkway)

When was Peachtree Dunwoody Road built?  How old is Wieuca Road?

Do you know of any interesting trees, houses, archeological or geological structures in our area?  If so, please contact us.  We'll share them on this site!
---
Neighborhood History Reported by Visitors to NBCA Web Site
Carmain Drive History
"The spring on my property [4250 Carmain] used to be the only water supply (pumped into what is now 4260 Carmain Dr.) before the street became citified. - Waldtraut Lavroff (May 17, 1998)
"There was an active quarry in the ravine behind our properties on Carmain." -  Sara Mayeux of Herrington Drive (May 17, 1998)
Sarah Smith Elementary History
"I know from a school project that Sarah Smith was originally built in the '50s because N. Buckhead had just been included into the City Limits.  It was named after the daughter of a prominent Atlanta family, and then it was grades K-7.  I remember my kindergarten class was the last to have Mr. Pepe as principal."
Wieuca Road Name/History
"In regard to Wieuca Road, I've heard Franklin Garrett say the name was derived from the initials of a developer's daughters' names.  The guy developed Sutter's Mill. The name Wieuca came from the names of a developers three daughters.  Charles said their names were WILMA, EUGENIA, and CATHERINE -- WI-EU-CA. -  Charles Taylor of North Ivy Road (May 17, 1998)
Peachtree Gardens Club History
The club site area (bounded by North Ivy Road and Mountain Drive) had been a lake before the clubhouse was built in the 20s.   He said that there had been a dam there is now a bridge on North Ivy. -Charles Taylor of North Ivy Road (May 17, 1998)
Buff Drive Name History
One of the two original residents on Buff were the Buffington familty.  He suspects the name Buff may be related to the name Buffington. - Charles Taylor of North Ivy Road (May 17, 1998)
"Chateaugay Lane which is off of Loridans Dr. was named after Chateaugay the winner of the 1963 Kentucky Derby.  The circle at the end of what is now Chateaugay Lane was at one time private horse stables." -  Reed Curtis of Glengary Drive (May 12, 1998)
Chastain Park History
"I know Chastain Park used to be a prison site.  It was a farm where the inmates worked the fields raising vegetables.  The present Galloway School was an alms house for the whites, while the art center was the alms house for the blacks.  I don't know for sure, but I think the name Chastain came from the landowner who owned the surrounding property and who ultimately left the stables to the city in his will.   It stated that the stable property would revert to his estate if it were ever sold (which Maynard Jackson apparently tried to do)."
History of Emma Lane, Emma Lake and the Lakemoore Area
"When we purchased our home at 2 Emma Lane last year, we learned quite a bit about this area of the neighborhood, some of which you may already know. 
"The area around Emma Lane was originally owned by Wiley Moore. He was an executive with the Pure Oil Company and a civic leader (ran for mayor and was Georgia's first Commissioner of Corrections) in the 1930s. He owned about 200 acres, I think, in the area and his residence was 1 Emma Lane, the large house at the end of the street on the right.  Emma was Mr. Moore's wife. Emma Lane was actually the driveway to the house. He later built 2 Emma Lane (our house) and 3 Emma Lane for two of his four children.
"This also would be the origin of Lakemoore Drive as, I think, the entire estate or area was called Lakemoore. All of this information is contained in a profile of him in the Pure Oil News from years ago. We have a copy and I will make a point of sending you one. There are pictures of the original three houses on the street, as well as the club house at Lakemoore Colony (I also have a copy of the history of these condos). I haven't read the article in a while, but I think he built the series of dams and lakes that make up what is now the wetlands area at the end of Emma Lane and the chain of lakes that eventually flow into Nancy Creek over by Rickenbacker." - Kitsie Riggall (February 7, 2001)
---
Bibliography
"Atlanta and Environs: A Chronicle of Its People and Events, Volume I", by Franklin M. Garrett  (Available at the Atlanta History Center)
Buckhead: A PLACE FOR ALL TIME" by Susan Kessler Barnard (Available at Borders)
"What's in a Name: Places and Streets in the Atlanta Area", by Eva Galambos  (Available at the Atlanta History Center)
United States Geological Survey Maps of Atlanta 
PHOTOS
1938 aerial photo of North Buckhead with current streets

1942 Hand-drawn official map of North Buckhead - showing paved/dirt roads 
History of Emma Lane, Emma Lake and the Lakemoore Area
New (12/18/00) More Info About Log House On Arden Way