What is North Buckhead and Where is it?
North Buckhead is a residential, mixed-use and urban neighborhood inside the City of Atlanta, north of the Lenox Square area.  The area is heavily wooded with many hills and valleys.  It is conveniently located and has easy access to Atlanta's best shopping and to the majority of its finest restaurants.  Commuting is easier from North Buckhead since it is located on the city side of GA 400's toll gates and has the Buckhead MARTA station and the Lenox MARTA station is nearby.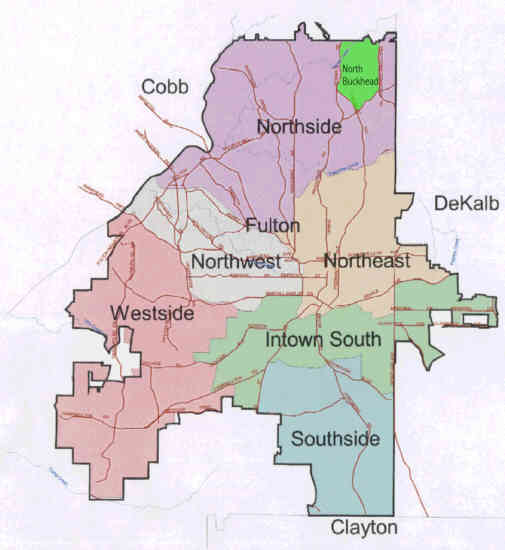 North Buckhead's land area is about 2.5 square miles, about 2% of the area of the entire City and is one of Atlanta's largest neighborhoods.  It has over 3,500 owner-occupied residences.  Of these, about 48% are single family houses on individual lots.  The remaining 52% are condominiums, both low-rise complexes and high-rises.  New infill subdivisions and redevelopment of existing home sites are common, gradually increasing the number of free-standing single family homes.  New condominiums continue to boost the neighborhood population more rapidly.   
Direction 
North Buckhead Boundary, 
South 
Peachtree Rd from Piedmont Rd to Peachtree-Dunwoody Rd
West
Piedmont Rd from Peachtree Rd to Roswell Rd
Roswell Rd to Atlanta City limits (beyond W Wieuca Rd)
North
Atlanta City limits 
East 
Peachtree-Dunwoody Rd 
North Buckhead includes over 100 intersections involving over 80 different street names.  Immediately beyond North Buckhead's southern and southwestern residential area is a heavily commercial/institutional and high density residential area which includes a number of shopping centers, high-rise office building and hotels.  Many owners of these high-rise homes have joined the North Buckhead Civic Association.  Intensive development is under way in this area.  
The western boundary is generally light commercial (strip malls along with small stores and restaurants) along Roswell Road.  The remaining boundaries are residential -- Sandy Springs on the north, Brookhaven on the east.  
About 40 restaurants (excluding fast food) operate within North Buckhead's boundaries and a much larger number are nearby.   

North Buckhead offers quiet living (very comfortable to luxurious living) in a heavily wooded area with immediate access to many employment opportunities, the best shopping in the southeast US, and convenient access to the rest of the city by expressway and rapid transit.